Volkswagen BKK Insurance Portal
---

Our customer is a major German insurance company having more than a million clients, including corporate accounts such as Volkswagen.
The objective for Novosoft and Klopotek was to redesign the Web site and make it more customer-centric in order to increase a customer service level.
The solution represents a "virtual office", where our customer's representative can immediately help any client to solve any problem concerning insurance using a portal chat.
Any client can get a professional advice from insurance specialists without having to go to the insurance company office. That saves clients' time and eliminates unnecessary hassle.
Importantly, this is a 24/7 service, which is a major benefit to all current and potential clients. The portal contains comprehensive information about company insurance services, and addresses many of the frequently asked questions.
Further, each client has a secure access to his/ her private information on the server. A client can log in any time to review/ update personal records and check personal insurance details.
The solution is c-BiZZ.basic-driven with the following set of additional modules: Touring, Chat, Forum, Formular.


Heilbronn-Franken Regional Online Marketplace
---

Our customer saw a demand for a centralized Internet-based marketplace for multiple buyers and sellers to meet and do business from various regions of Germany.
Novosoft and Klopotek developed a Shop-Mall - online platform, where all sellers could register and rent some online space to place information and ads about their products. Advanced search function at Shop-Mall helps all visitors to easily find any product or service offering they have an interest in.
The solution has a serious advantage against similar online marketplaces. Every person or company could search the community by specific region only. That narrows down the wide choice of suppliers to local ones whose products could be delivered to a buyer within a short period of time.
This and some other features, such as chat, forum, e-cards service and SMS, make this Web site a highly attractive and useful tool for the visitors.


Hannover Regional Information Portal
---

Our customer needed a full redesign of its Internet portal to make it a final stop for all kinds of online visitors from Hannover area.
Together, Klopotek and Novosoft implemented a major portal overhaul. Current site version includes all the information sections that a potential visitor could possibly be interested in, such as news, events, sport, etc. Also, the site provides its visitors with a possibility to search for product/services available from local suppliers and to buy products online.
At the core of the site is Novosoft's c-BiZZ.basic. Also, additional modules, such as Chat, Forum, Voting, Mail and Touring are included, to make a better value proposition to visitors of the portal.


Braunschweige Zeitung Internet portal
---

The objective of the project was to redesign a Braunschweige Zeitung newspaper information portal on the Internet. Along with improved navigation and general site redesign, the portal needed a major improvement of editing functionalities in order to increase a number of edited and published newspaper articles, and to automate a process of publishing news online to the highest degree possible.
To address a problem, Klopotek and Novosoft developed a special importing program that automatically transfers all articles and illustrations from DPA information agency and Funkinform DIALOG newspaper editing system into the c-BiZZ database.
The importing program analyzes incoming data and automatically allocates received information into corresponding categories.
The process of article actualization happens automatically as well. As a result, most of the articles could be placed in a right spot of the publishing area and published without editing.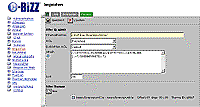 Editing system – Importing Module: tuning DPA news import



The editing software allows editors to easily manage and set properties for the information to be published: to set article priority, article headings, and article position on the page/screen. Topic Manager allows an editor not only to prepare and arrange content for the current site, but also to plan and see what content is supposed to appear for any future date. One of the key system advantages is that it allows transferring fresh news into information section of the portal with just a few clicks.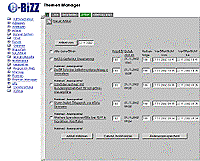 Editing system – Topic Manager Module




All editing system modules are specifically designed to speed up and automate the process of publishing news online on the customer Web portal. That gives a number of benefits to a customer, such as reduced time-to-market, decrease in demand for human resources, and cutting costs down.
The core of the solution is a Web Content Management System c-BiZZ. Some additional modules have been added to increase the value to the final users - Forum, Chat, Information board, Events calendar, Yellow Pages and others.